When the Seattle Sounders face off against the Portland Timbers at CenturyLink Field on May 27, it will be the 98th meeting between the sides since they first met at Civic Stadium as members of the North American Soccer League in Portland on May 2, 1975. That's a lot of time for history to be made and for bad blood to brew.
This is a rivalry rife with historic moments and stories that have all fed into making it what it is. Leading up to this year's inaugural 2017 clash between the sides at CenturyLink, Sounders Monthly caught up with a few figures that are most familiar with the rivalry to dish on their favorite moments, scenes and memories. CLICK HERE TO READ THE FULL EDITION.
On July 1, 2009, the Sounders traveled to PGE Park for a third-round US Open Cup matchup in Portland. Seattle was in the midst of their first MLS season, while the Timbers were, at this point, still members of the USL. The Sounders didn't know it at the time, but they were about to play one of the most iconic matches in club history.
On the bus ride down to the game, Roger Levesque had hatched a plan with teammate Nate Jaqua for how they would celebrate should one of them score a goal. As it turned out, they would get to use it just 48 seconds into the match after Levesque finished a diving header off a cross from Sanna Nyassi.
Jaqua then put the plan into action, rushing over to a celebrating Levesque and, using his arms to mime an axe, proceeded to 'chop' Levesque down like a tree. Levesque then toppled over and sprawled his body out onto the PGE Park turf, sending Seattle's traveling supporters into bedlam and forever cementing his place in Sounders lore. Levesque's '48 seconds' goal is still considered one of the most iconic tallies in franchise history – and turned him into something of an unexpected villain in the eyes of Portland fans.
Tommy Dutra (Sounders goalkeeper coach): So good. I think they best part is they were trying to get their tifo down and then all of the sudden we score and here comes the tree chop. That was the best moment because here they are, celebrating the game and we already scored. To me, the timing of that, because they were celebrating with the tifo and we score a goal, and hearing Jacqua and Roger talk about it and their celebration and what not, it was fun to see it happen.
Steve Zakuani (Former Sounders No. 1 draft pick): [My favorite memory] is Roger's goal, I think. …I didn't play in that game, they used to rest some of us for the Open Cup games, but I made that trip because I wanted to see us play against Portland and Roger's goal – and that celebration that they did – I think that's a strong memory for a lot of us.
I think every game Seattle and Portland play [is my favorite memory.] You get the best crowds, the best atmosphere, both team's best efforts, so they're all good. But that particular memory when they were still a USL team kind of introduced a lot of us newer guys to the rivalry.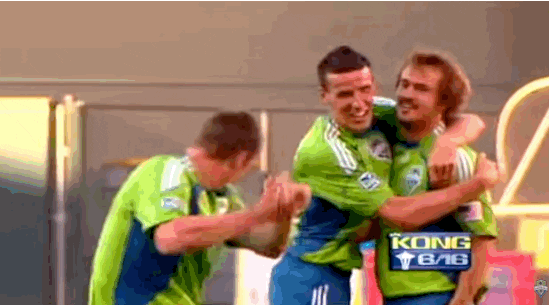 Roger Levesque (Former Sounders USL & MLS midfielder): I think that moment resonated so much because it was so unexpected. Not just me being in the spotlight in that moment and scoring that goal but the timing, 48 seconds in, no one even had a chance to take a breath. The stands were still filling up.
But it was also a point in the rivalry where it was this transition from USL to MLS, both teams were in this kind of transition phase. I think people were still trying to wrap their heads around what the rivalry was and what it was going to mean going forward. So there was this unexpectedness and uncertainty of what that moment was. It was almost bridging the gap from the USL to MLS and the rivalry of old to what it's going to look like.
Head Coach Brian Schmetzer: Roger Levesque, the nicest guy on the planet, becomes the evil villain as far as Portland fans are concerned? I find that just hilarious, that Roger could be a villain.
Don Ruiz (Sounders beat reporter, Tacoma News Tribute 2009-16): For some reason, while Roger Levesque was one of the most likable guys I ever dealt with in the Sounders organization, the Timbers specifically didn't like him. For him to do that kind of showboating celebration at their greatest moment of pain, they'll remember that one forever.
Levesque: I loved [being the villain], just the irony behind it. Anything I could contribute to just the passion and the growth of the sport and have a little fun with it, I'm gonna be all in.